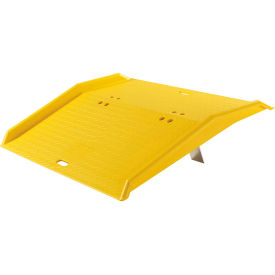 Eagle Plastic Dock Plates
Eagle Plastic Dock Plates are Designed for Hand Trucks, Carts, and Dollies to Easily Transfer from Dock to Truck.

Eagle Plastic Dock Plates feature a high-visibility yellow deck features a textured non-slip surface, beveled entry and exit edges, and integrated raised lip guardrails. Plastic Dock Plates allow 4" height differential between Dock and Truck, and meets OSHA standard 1910.30(a). Portable Dock Plate offers a lightweight, ergonomic design, and includes two carry handles and aluminum legs.