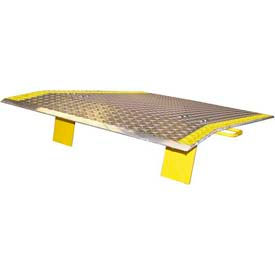 B&P Aluminum Dock Plates
Engineered from High Quality Aluminum for Superior Longevity.

Lightweight Aluminum Dock Plates are rated at actual capacities per the Aluminum Industry Association standards. Dock Plate features a diamond tread surface for exceptional slip resistance. Beveled edges offer a smooth transition from plate to dock. Bolt-on safety stop legs help secure the dock plate in position and are reversible for refrigerated truck applications. Loading dock plates are not for use with rider type trucks. Dock plate width should be 12 inches wider than the load, and ramps comply with OSHA spec. 1910.30(A).

Dock Plates are available with a choice of Handles or Hand Slots.

** The HT." DIFFERENCE is the height difference above or below the dock.