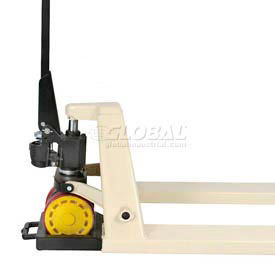 Wesco® Pallet Jack Chock - Pallet Truck Stop
Pallet Jack Wheel Chock is Engineered to Hold Any Pallet Truck in Place in a Moving Truck or Trailer.

Pallet Truck Chock has a unique design that helps to reduce freight and trailer damage due to runaway pallet jacks, making it used for freight, logistics and trucking companies.

Durable rubber skid jack wheel chocks prevent any movement on the floor of a truck or trailer, protecting valuable freight from damage caused when a pallet jack rolls or slides unsecured. The pallet jack wheel chock works on any surface and will not slip. Truck drivers simply pull the pallet jack into the chock and it is securely parked in seconds. Drivers will never again have to tie a pallet truck down or turn the pallet truck on its side.