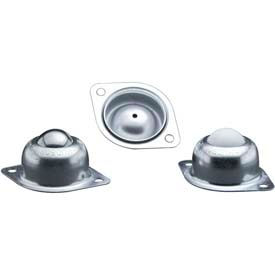 Hudson Bearings Flange Mounted Ball Transfers
Hudson Bearings Flange Mounted Ball Transfers Support Ergonomic Content Transfer and Mobility In Fleet, Industrial, Commercial, and Other Related Applications.

These Ball Transfers are designed to be used in conjunction with a conveyor to easily transport heavy duty content from one location to another. The units are made of steel, nylon, and neoprene making them both strong and impact resistant for rigid material handling. The support cup and cover is hardened and plated to resist oxidation and corrosion in moist or wet conditions. May be used in ball up or down position. Weight capacities are 75, and 250 lbs. Diameters are 1", and 1-1/2". Dimensions vary per model.