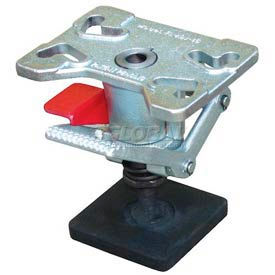 Adjustable Height Floor Locks
Adjustable Height Floor Locks accommodate Different Caster Rig Heights.

Floor Locks offer adjustable heights to take up slack as wheels wear down, or make up for varying height differences when multiple casters are used on the same cart. Unit keeps working properly as spring and pad wear over time. Conveniently located Foot Pedal locks and releases easily. Bottom Pad has a suction-cup surface for extra grip. Choose durable Zinc-plated Steel construction or rust-resistant Stainless Steel for food service and medical related cart applications.