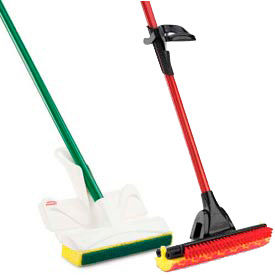 Libman® Commercial Sponge Mops
Libman® Commercial Sponge Mops Are Used For Food Service, Hospitality And Household Cleaning Applications.

Commercial Sponge Mops feature tear-resistant, synthetic sponges for industrial-strength cleaning power and long lasting durability. Handles are constructed of solid steel for power and longevity. Sponge Mops come in a wide range of designs for increased versatility. Available in 10" Nitty Gritty® Roller Mop, 12" Big Roller Mop, Basic Roller Mop, Big Gator Mop with Brush, Eliminator Roller Mop, Gator Mop, Microfiber Gator Mop, Scrubster Mop, Wood Floor Roller Mop and refills for each model.