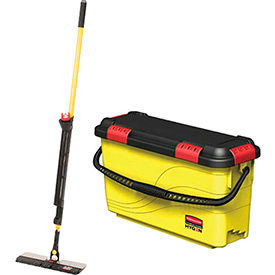 Rubbermaid® Hygen Microfiber Moping Systems
Rubbermaid® Pulse™ Mops are made with a high-capacity refillable reservoir that holds enough solution to clean up to 850 square feet of floor space. Ergonomic trigger handle dispenses streams of cleaning solution for a sanitary and convenient way to clean floors. Rubbermaid® Double-Sided Folding Mop Frames are stainless steel and allow easy attachments and detachments to Rubbermaid® microfiber mops. Sold in quantites of 3.

Rubbermaid® Microfiber Mops are available in several varieties to suit any cleaning job. Sold in quantities of 6.

Rubbermaid® Microfiber Mop Buckets are used for use in healthcare environments. Smooth, non porous surface prevents bacterial growth. Twist-valve easily empties contents without lifting. Mop buckets are made with lightweight plastic and accomodates mop pads up to 18"W. Press Wring Bucket features a handle-stay to reatin mop, angled washboard scrubbing surface to remove dirt and debris before wringing mop and non-marring casters. 43 Qt. Capacity.