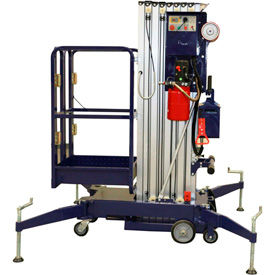 Ballymore Mobile Vertical Lift
Ballymore Mobile Vertical Lift Is Used For Applications Including Industrial, Storage, Maintenance, And More.

Ballymore mobile vertical lift is made of high quality materials for long lasting durability and dependability. Lift provides convenient height adjustability accommodating lighting and ceiling maintenance. Unit climbs and descends easily allowing level functionality and quiet operation. Wheels offer ergonomic mobility and maneuverability for easy transport and storage. Includes easy to use control box for operation handling and control. Single user operation. Weight capacities are 300 and 330 lbs. Dimensions vary per model.