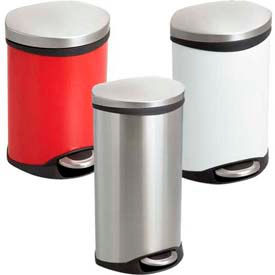 Steel Step On Medical Receptacles
Steel Step On Medical Receptacles Are Used For Use In Hospitals, Clinics, General Practitioner's Offices, Dentist's Offices And Other Health Care Related Facilities.

Steel Step On Medical Receptacles are made of steel or stainless steel for long lasting durability and reliability. Hands free models designed with unique shape allowing fit into room corners to help save valuable space. Fingerprint proof to maintain clean appearance. Rigid plastic liner with built-in bag retainer. Lid closes slowly for quiet operation and prevents slamming. Styles are Step-On Receptacle, Step-On Medical Receptacle and Step-On Stainless Receptacle. Available in a variety of capacities from 1-1/2 gallons to 13 gallons. Color finishes are Red, Stainless, Silver and White. Dimensions and warranties vary per style.