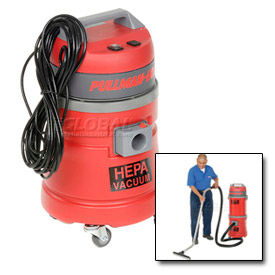 Pullman-Holt HEPA Vacuums
Pullman-Holt HEPA Vacuums Provide Powerful Suction for a Variety of Heavy-Duty Cleaning Jobs.

HEPA vacuums feature a high-efficiency drop-in style HEPA filter, individually certified to have a minimum efficiency of 99.97% at 0.3 microns. HEPA vacuums include Pullman-Holt's exclusive 'never-clog' Dacron bag for superior pre-filtration. Blow-molded poly canister with low center of gravity helps prevent tipping. Positive locking full-swivel hose connection system for easy handling and operation. Low noise level allows use in sound-sensitive areas. Included tool kit in some models feature a Crushproof Hose, Two-Piece Metal Wand, Crevice Tool, Floor Brush and Round Dusting Brush. Available in wet and dry applications. Pullman-Holt HEPA USPS vacuums meet specifications set by the US postal department.Pullman-Holt Drum HEPA vacuum adapter allows conversion of a 55 gallon steel drum into a jumbo-sized vacuum.