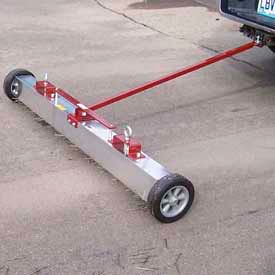 Trailblazer Magnetic Sweepers
Trailblazer Magnetic Sweepers Easily Mounts On Vehicles And Forklifts In Under A Minute.

Magnetic sweepers help reduce tire repair costs by getting rid of tire damaging steel, nails, wire, screws and other metallic debris. Simple-to-use magnetic sweeper automatically picks up steel objects to provide an alternative solution to brush sweepers, vacuums and power sweepers. Not affected by rain, dust or temperature. Can be used over asphalt, concrete, grass and gravel. 4-in-1 convertible sweeper can be pushed, towed, mounted on a forklift or hung from a vehicle (chains not included). Load release allows easy disposal of picked up items. Made using heavy gauge steel and aluminum tubing. Large 8" wheels for smooth operation. Standard Sweepers have a lift handle load release. Deluxe Sweepers feature a lever activated load release. Made using blue anodized aluminum tube and powder coated steel. Trailblazer Magnetic Sweepers are USA Made. 1 Year Limited Warranty.