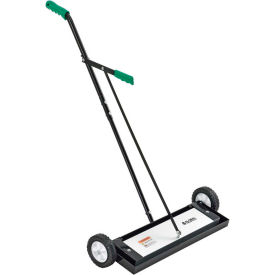 Heavy Duty Magnetic Sweepers
Heavy Duty Permanent Magnets Easily Pick Up Unwanted Metal Materials Off Floors And Surfaces For Safety.

Quick load-release lever allows easy disposal of picked up metal objects. To unload, simply push the sweeper to desired dumping area and pull the lever. As the magnet rises, collected material is released from the collector plate. 6" diameter rubber wheels for easy mobility. Used for construction companies or rental shops. 48"H sturdy handle. Sweeper plate measures 5"D x 1-3/4"H. Permanent magnetism guaranteed.