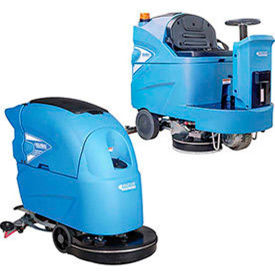 Global Industrial™ Automatic Floor Scrubbers - Battery Powered
Global Industrial™ Automatic Floor Scrubbers Ensure Floor Surface Maintenance For Hotels, Schools, Gymnasiums, and more.
Cleans up to 60,170 sq. ft. per hour
Saves time and money with advanced features
Simple operation and beautiful results
Simple to use and packed with features, Global Industrial™ Automatic Floor Scrubbers save time while cleaning up to 60,170 square feet per hour. Large capacity solution and recovery tanks maximize work time between refills. Digitally controlled
"Soft Start" Battery Management System
extends battery run times up to 4.5 hours between charges.
Complete cleaning in one machine. Included pad driver accepts a variety of floor pads (sold separately) for stripping, scrubbing, or buffing floors. Order optional scrub brush to clean rough or uneven surfaces like grouted tile or concrete. Machine dispenses water/cleaning solution and scrubs the floor while collecting and vacuuming the used solution into its onboard holding tank. High capacity water lift vacuum increases the speed and surface area covered as well as reducing drying time. The floor is cleaned and ready to use as quickly as possible.
Pad Assist models help the user move the machine forward by the grip of the rotating scrub deck against the floor
Traction Drive/Self Propel models use an electric motor to power the unit forward or reverse - requiring less effort to operate and reducing operator fatigue during long cleaning times
Ride On model greatly increases the speed and area that can be cleaned, allowing the operator to sit on the unit and drive during the cleaning process saving time
Available cleaning widths from 17" up to 34" for small to large areas
Water lift up to 120" reduces residual liquid left on the floor increasing safety and reducing the time areas are closed for cleaning/drying
Battery run time up to 4.5 hours
Battery charger, pad driver, and squeegee blades included.