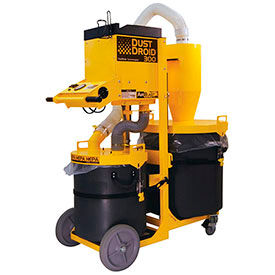 Dustless DustDroid Dust Extractors
Dustless DustDroid Dust Extractors Are Safe For Silica, Lead Paint, And Hexavalent Chromium Removal And Containment.

DustDroid models feature certified HEPA filters rated at 99.97% containment at 0.3 microns. Safe for silica, asbestos, lead paint, and hexavalent chromium removal and containment. OSHA Silica Rule and EPA RRP compliant. Large capacity with two onboard drums for containment. Heavy duty frame made from 1/8" steel tubing, 16 gauge steel and non-marking rubber casters. Solenoid-free Silica Rule-compliant filter cleaning for reliable performance and less maintenance.