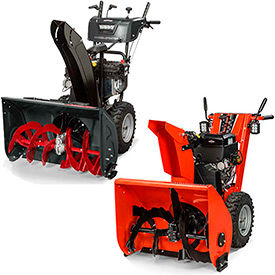 Gas Powered Snow Throwers
Briggs and Stratton Snow Throwers Allow Efficient Snow Removal for Multiple Environments Including Residential, Commercial, Public, and more.

These gas powered snow throwers accommodate medium to heavy snowfall for sidewalks, driveways, and other high traffic areas. The auger-assisted drive system effectively removes wet and heavy snow from the pavement for operation ease. The serrated surfaces improve ice chopping and snow clearing power for cleaning efficiency. The chute rotation and deflector are designed to change the direction and distance snow is thrown. Units are made of steel and polypropylene for strength and corrosion resistance in harsh weather conditions. The compact size and design provides convenient unit maneuverability while increasing storage space. Includes a push button electric start for quick and easy starting in low temperatures. Available Single Stage and Dual Stage. ANSI and CSA approved.