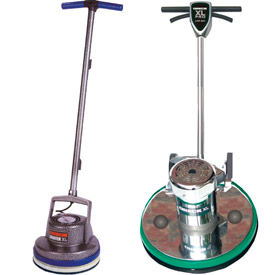 Oreck® and Bissell® Floor Machines
Floor Machines Are Purposed For Cleaning Carpets, Hardwood Floors, Ceramic Tiles and more.

Floor Machines provide reliable cleaning power in a variety of commercial environments. Bissell® Lowboy Floor Machines are made with a 10.8 amp induction motor with orbiting transmission that runs at over 1725 orbits per minute. 19" apron with optional vacuum connections controls and collects sanding dust. Safety-enhanced non-conductive dual triggers eliminate shock potential, while the safety interlock switch prevents unexpected startups. 5" non-marring transport wheels ensure easy transport. Oreck® Orbiter Floor Machine features a 1/2 HP induction type motor made using zinc and steel for lasting durability. Floor machines are made without gears, belts or motor brushes for virtually maintenance-free operation. 30' grounded 3 wire and pad holder. 13" cleaning width. 1 Year Limited Warranty. Bissell BigGreen Commercial Easy Motion Floor Machine with Tank is versatile enough to do it all. Units strip, wax, buffs, sands and refinishes most floor surfaces. Additional specifications vary per model.