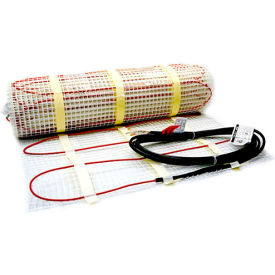 Heatwave Floor Heating Mats & Cables
Heatwave Floor Heating Mats and Cables Provide Heating Solutions Under A Variety Of Floor Surfaces For Bathrooms, Kitchens, Entryways and more.

Heatwave Floor Heating Mats and Cables operate under a number of floor coverings such as tile, concrete, linoleum and more. Heating Kits are supplied with a low voltage transformer unit, making the product suitable for wet applications such as bathrooms and laundry rooms. Other styles include Heating Mats and Heating Cables to provide custom solutions for different shaped areas. Heating area coverages range from 8 to 160 sq. ft. and operate between 8 to 14 watts per sq. ft. Voltages are 120 or 240. Most models are CSA, UL and ETL listed. Amps and additional specifications vary per model.