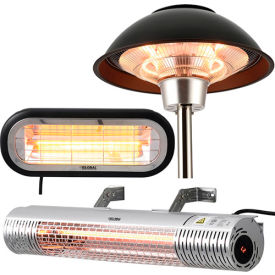 Global Industrial™ Patio Heaters
Global Industrial™ Patio Heaters Are Perfect For Outdoor Dining Areas In Need of a Reliable and Convenient and Sophisticated Heat Source.

Global Industrial™ Patio Heaters provide a simple cost effective solution to extend outdoor spaces into the cooler months. These compact machines provide warm and comfortable environments for patrons at outdoor restaurants, bars, lounges, and other locations while blending in easily with surrounding décor and furniture. Most models are operational via remote control for easy monitoring at a distance. Select heaters can be either wall mounted or fixed to a stand. Mounting brackets and stands included. Most models feature either infrared wavelength or halogen lamp for quick heat generation. Patio heaters must be installed by a certified technician. Dimensions and additional specifications vary per model.