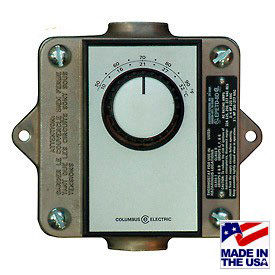 TPI Hazardous Location Thermostats
Control The Temperature Of Your Hazardouse Location Heater With Ease Using These Wall Mount Thermostats

These field installed accessories provide convenient, easy-to-use temperature control to your Hazardous Location Heater. Thermostats include Celsius and Fahrenheit scale for heating or cooling. Rated Class I Group C & D; Class II Group E, F & G. EPET Thermostats offers temperature control range of 50-90°F. Includes a plastic temperature adjustment knob and bi-metal room temperature sensor. HLT Series Thermostats offer 40-110°F temperature range. Includes a screwdriver temperature adjustment slot and external bulb with capillary room temperature sensor. These products are custom built and are subject to 100% cancellation and restocking charges.