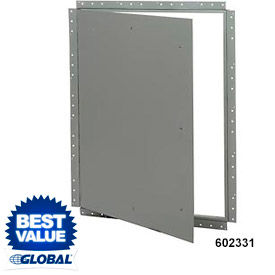 Access Doors With Drywall Taping Bead
Access Doors With Drywall Taping Bead Are Designed For Post Drywall Installation in Residential, Commercial, Industrial, and Other Related Applications.

Access doors with drywall taping bead allow convenient servicing access for plumbing, heating, electrical, and other system components. The concealed frame panel and drywall bead provides a seamless, built-in look for wall or ceiling access doors. The steel construction provides strength and durability for years of reliable service. Includes rounded safety corners and a concealed piano hinge for easy access. Features a standard cam latch. Installs easily in most flat surfaces. Grey color finish. Dimensions vary per model.