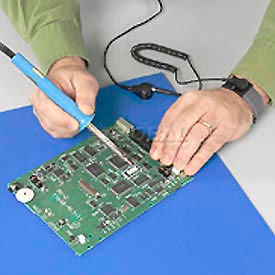 See all 2 items in product family
Anti-Static Mats are Excellent for Assembly Operations.

Anti-Static Mats are used where matting may come in contact with hot soldering iron tips or solder splashes. Volume electrical properties protect static sensitive products and provide workplace safety. Static dissipative top layer has a conductive bottom of synthetic rubber. Thickness is 0.078".Slight stipple finish for traction. Includes one installed 10mm snap socket. Available in two sizes: 36" x 24" or 48" x 24" RTT: 10E6 - 10E8 ohms.


Click for more