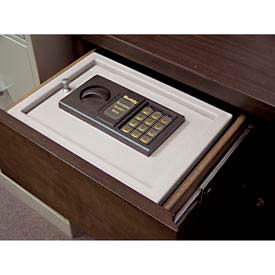 See all 3 items in product family
Personal Drawer Safes With Top Openings Provide Secure Storage For Applications Including Residential, Commercial, Storage And More.

Personal drawer safes with top openings are made of steel for lasting durability and dependability. Electronic locks prevent unauthorized access to money, jewelry, weapons, important documents and more. Units are shelf or drawer mounted for convenient or obscure access versatility. Optional mounting hardware available. Not recommended for CD, DVD or electronic device storage. Lock types are Biometric Fingerprint Lock and Keyed Lock, Electronic Combination Lock and Electronic Keypad Lock and Keyed Lock. Cubic feet capacities are 0.13, 0.18 and 0.23. Available colors are Black and Platinum. Dimensions vary per model.


Click for more