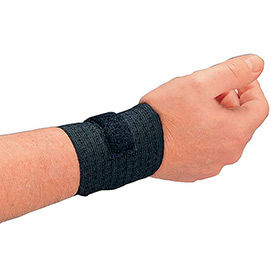 See all 7 items in product family
Wrist Supports Are Used For Applications Including Medical, Physical Therapy, Athletic, And More.

Wrist supports are made of high quality materials for long lasting durability and dependability. Supports provide wrist stress, strain, and pain protection. Units contain four stays to limit flexion and extension movement for neutral wrist positioning. Ambidextrous design and lining accommodates both hands while resisting moisture. Includes slip-on neoprene thumb/wrist support with wraparound hook and loop closure for unit stability. Available styles include Dual-Flex Wrist Support, Maxwrist Wrist Support, Lightweight Wrist Support, Single Strap Wrist Support, Thin Flexrist Wrist Support, Rist-Rap w/ Thumb Support, Thumb/Wrist Wrap, Wrist/Thumb Support, and Wrist Splint Support. Sizes are One Size, Standard, S, M, L, and XL. Colors are Beige, Black, and Navy. Dimensions vary per model.


Click for more