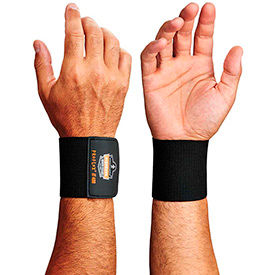 See all 62 items in product family
ProFlex® Wrist Supports Are Used For Assembly Lines, Warehouse Work, Typing And More.

Delivers support required to relieve strain associated with repetitive stress and overuse injuries. Used for workers who have already suffered minor strains, sprains, injuries or arthritis. Wrist supports provide a variety of support levels for many different jobs. Lightweight Wrist Supports provide supplemental support for offices or light industrial work. Patented Open-Center Stay™ provides added support. Single Strap Wrist Supports and Double Strap Wrist Supports help limit downward (flexion) wrist movements. Made from elastic with two-stage hook and loop closure. Universal Wrist Wraps are made using double woven elastic for lasting support and comfort. Hook and loop closure for exact tension and fit. Universal wrist wraps are available with or without Thumb Loop. Ambidextrous Wrist Supports are made from black neoprene and fit on right or left wrist. Available with Single Strap or Double Strap.


Click for more