Chemical Neutralizing Kits Contain, Absorb, Neutralize and Solidify Spills for Maintenance Ease and Safety.
More.
Chemical neutralizing kits are made of plastic for long lasting durability and dependability. Units include gloves, goggles, boot covers, disposal bags and more for operator protection and stability. Available styles include
Acid Absorber/Neutralizer Spill Kit, Acid Neutralizer Spill Kit, Ammonia Neutralizer Spill Kit, Battery Acid Spill Kit, Caustic Neutralizer Spill Kit, Fuel Eliminator Refill Kit and more.
Absorption capacities range from
1.25 to 35.27 gal.
Package quantity is
1.
Pail colors are
Black, Blue, Green, Red, White and Yellow.
Dimensions vary per model.
Click for more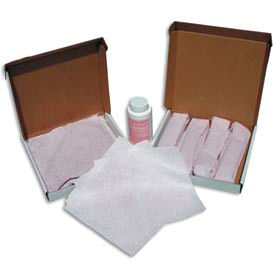 See all 13 items in product family
Acid and Base Neutralizers Support Convenient Maintenance for Medical Environments, Waste Management, and more.

These neutralizers are made of high quality materials for long lasting durability and dependability. Units are designed to neutralize and solidify acid and base spills for containment and maintenance safety. Neutralizers will change color to indicate spillage stability. Types are Acid and Base. Available styles include Bags, Bottles, Pads, Pails, Pillows, Shakers and Socks. Colors are Orange, Pale Orange, Pink and Purple. Dimensions vary per model.


Click for more