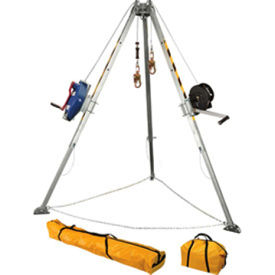 See all 6 items in product family
Confined Space Tripod Systems Provide Fall Protection For Applications Including Construction, Industrial, Commercial, And More.

Confined space tripod systems are made of high quality materials for long lasting durability and dependability. Systems are designed for confined spaces, manhole entry, and retrieval. Units allow convenient mobility and transport for ergonomic assembly and installation. Includes safety chain for movement prevention and skid resistant tread plate for unit stability. Features locking legs, pin style adjustment, and quick-mount mechanical device bracket. Available types include Adjustable Height Legs, Complete System, Fixed Height Legs, and Tripod. Weight capacities range from 310 to 5,000 lbs. Colors are Black/Silver, Blue, Gray, Natural, Silver, Silver/Red, Silver/Yellow, and Yellow. Dimensions vary per model.


Click for more