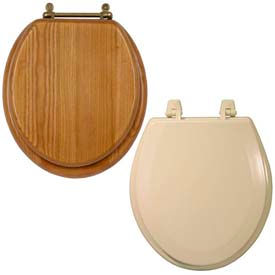 See all 2 items in product family
Round Toilet Seats Are Used For Any Commerical Or Residential Bathroom Installation Application.

Round Toilet Seats are made of wood, bamboo, heavy duty plastic, plastic and premium soft with multi-coat paint finish to provide long lasting durability. Matching top mount hinges. Fits round front bowls. Available in Closed Front or Open Front. Hinges available in Matching Color, Stainless Steel, Plastic Top-Tite, Plastic Whisper Close, Plastic Non Self Sustaining, Nickel, Chrome, or Brass Bar Hinge with Metal Hardware. Hinge material resists chips, wears and stains. 20 different colors.


Click for more