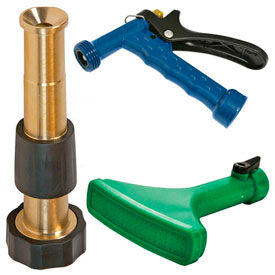 See all 8 items in product family
Garden Hose Nozzles And Accessories Are Used For Gardening, Landscaping And More.

Garden hose nozzles and accessories are made of high quality materials for long lasting durability and dependability. Units provide ergonomic water access for outdoor lawn care and maintenance. Hose nozzles feature adjustable action triggers for target and pressure control. Adjustable valves allow convenient water pressure control. Accommodates all garden hoses for operator ease. Available types include Coupling, Hose Caps, Hose Mender, Nozzle, Nozzle Set, Repair Coupling, Shut-off Valve, Spray/Mixer Bottle and more. Styles are 5 Pattern Adjustable, 7 Pattern Adjustable, 8 Pattern Adjustable, 9 Pattern Adjustable, Adjustable Spray Pistol Grip, Chemical Applicator, End Caps, Fan Spray and more. Color finishes are Black, Blue, Brass, Brass/Black, Cast Zinc, Green, Red, Silver and more. Dimensions vary per model.


Click for more