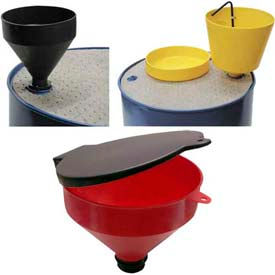 See all 12 items in product family
Drum Funnels Safely Transfer Flammable and Non-Flammable Solvents, Oils, Chemicals and other Liquids into 30 or 55 Gallon Drums.

Drum Funnels have a wide-mouth design for easy pouring and efficient liquid transfer. Built-in vents virtually eliminate splashing or "burping" when pouring liquids. Steel, plastic, polyethylene, or polypropylene construction provides chemical resistance and lasting durability. Threaded fitting or funnel shaft fits 2" drum bung holes for clean, safe filling. Some Drum Funnel models have built-in flame arrestors for safe use with flammable liquids. Funnels with lids prevent dirt or contaminants from entering stored liquids. Available types include Funnel, Funnel w/Cover, Funnel w/Manual Close Cover, Self-Close Cover, Self Close and Anti-Tip Kit, and Self-Close w/Brass Tube. All funnels comply with EPA and OSHA regulations and are FM approved. Diameters range from 4-1/2" to 13-3/8" inches.. Heights range from 4-1/2" to 18-3/16" inches. Additional specifications vary per model.
Click for more