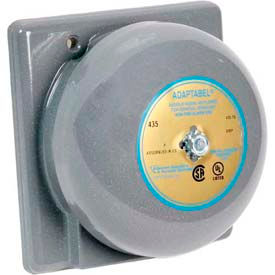 See all 5 items in product family
Vibrating Bells Are Used For Commercial Or Industrial Use, Schools, Hospitals And Other Institutional Applications.

Vibrating Bells are solidly constructed with shockproof, die-cast housings for long lasting durability and dependability. Vibrating bells produce a long continuous ringing sound. The striker continues to strike the gong in rapid-fire action as long as current is applied. Universal Adaptaplate mounts directly on surface or electrical box. Weatherproof for indoor/outdoor use by adding appropriate back box. Specified for timing, scheduling and general alarm applications. Completely assembled. Available in 4", 6" and 10" diameter gong sizes and AC or DC voltage.


Click for more