Lunch/Cafeteria Checklist
Portable Sinks and Hand Washing Stations
Indoor Steel Garbage Cans
Single Station Microwave/Prep Carts
Touch-Free Soap Dispensers
Automatic Towel Dispensers
Antimicrobal Folding Tables
Sealed Plastic Storage Bags
Disposable Utensils
Tray Delivery Carts
Lunchrooms and Cafeterias
Lunchrooms and cafeterias are usually loud and crowded areas but can still remain safe with the right transformative steps. Invest in portable or single-station appliances, as well as touch-free soap and paper towel dispensers and microbial tables to maintain cleanliness wherever possible.
Reduce lunchroom table occupancy to smaller numbers and locate tables closer to exits for easy and convenient crowd control
Portable sinks and hand washing stations provide quick access to sanitation needs
Antimicrobial tables help reduce bacteria buildup and the surfaces clean up easily
Consider leaving doors with handles or knobs wide open with securable stoppers to reduce contact
Disposable utensils and gloves help reduce exchange of germs
---
Our Top Lunchrooms and Cafeterias Products
Helpful Hints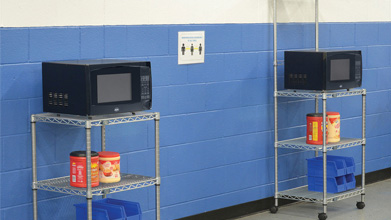 Furniture
Single-station microwave and prep carts keep people and appliances apart. Setting up antimicrobial tables significantly decreases bacteria spread.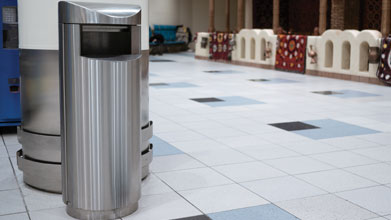 Food Delivery
Sealing food in secure plastic storage bags and using disposable utensils will further increase safety for workers. Invest in steel indoor garbage cans to securely contain waste safely.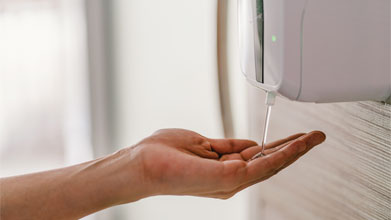 Sanitizing Stations & Supplies
Touchless soap and paper towel dispensers increase individual hygiene. Prominently placed portable sinks and hand washing stations provide convenient use for all patrons.