Hallway Checklist
Antimicrobial Lockers
Bottle Filling Stations and Water Coolers
Enclosed Cork Boards
Floor Signs and Tape
Belt Stanchions
Floor Cleaning Equipment

When the Bell Rings
Most hallways are at risk for crowds, so managing the traffic flow – especially in schools where there is the added issue of lockers – will need more than floor markers to maintain safety. Old lockers should be replaced with antimicrobial lockers, and water fountains should be converted to bottle filling stations.
Enclosed cork boards provide you with the ability to post and promote important event information in a safely contained manner
Keep floor cleaning equipment in service and supplies stocked for regular surface cleaning and emergency floor cleaning
Use floor signs and tape to manage hallways and stairwell flow at proper distances
---
Our Top Hallway Products
Helpful Hints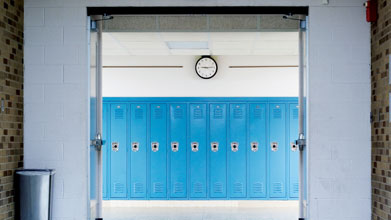 Antimicrobial Storage
Replace old lockers with new antimicrobial agent lockers that resist growth of bacteria, mildew, and more.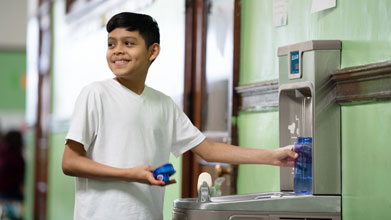 Touchless Drinking
Bottle filling stations and sensor water coolers eliminate the need for touch and provide energy-saving benefits.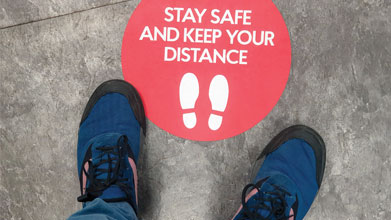 Signage & Traffic Flow Control
Use floor signs and tape to help maintain safe traffic flow, and belt stanchions help section off areas.