Do you want
to heat people
or space?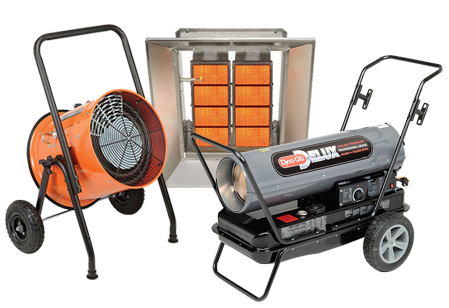 We've put this together so you can make an informed decision about the best heater for your space.
Radiant heat warms people and objects rather than the air.

Infrared emits heat much like the sun does to heat skin, clothes, and other objects.

Convection heat relies on the circulation of air to heat a room.

Forced air heats the air directly and circulates that warm air throughout the area.
| Heater Type | Pros | Cons | Best used for | Power Source |
| --- | --- | --- | --- | --- |
| Radiant | Uses less energy for stationary activity in offices; air is directed to a specific target; quiet operation (heat travels thru space without heating space and is absorbed by the first solid object it encounters). | Can take longer to heat an area; hot to the touch. | When you need to warm people and objects in the area rather than warming the air itself, usually through a radiator, floor, wall, or overhead panel. | Natural gas, propane (LP), oil, coal, wood, electricity, heat pumps, ground source heat pumps, and solar energy |
| Infrared | Work instantly; they do not reduce oxygen content; promote healthy blood circulation. | Limited warming; cools quickly when shut off. | When you need instant heat in a directed area; can be used outdoors. | Electric and gas |
| Convection | Heats entire room easily; warms air quickly. Moves heat from one location to another by means of currents set up in fluid or medium. Most common in HVAC are air and water. | Response to moving air means that an influx of cold air will mix into the hot air and be less warm. Objects can block air flow. Slight energy loss since air is pushed to ceiling. | When you need to heat a large room in a closed space for extended time. Oil heaters are convection heaters good for homes or small office buildings. | Natural gas, propane (LP), oil, coal, wood, electricity, heat pumps, ground source heat pumps, and solar energy |
| Forced Air | Heats quickly and powerfully and is more affordable. Can share air ducts for AC. | Watch for leaky ductwork; can stir up settled pollutants; takes longer to heat. | When you need to heat homes or large office buildings. | Electric, natural gas, propane (LP) |
| Conduction | Can heat specific areas or items and keep them at a warm temperature. | Cannot heat a room using only this type of heat. | Maintaining constant temperature in a room. Keeping bottles or lotions at a specific warm temperature. | Electric |
| Area to be heated (sq. ft.) | Watts | BTU |
| --- | --- | --- |
| 150 | 1500 | 5115 |
| 250 | 2500 | 8525 |
| 350 | 3500 | 11935 |
| 500 | 5000 | 17050 |
| 750 | 7500 | 25575 |
| 1000 | 10000 | 34100 |
| 1500 | 15000 | 51150 |
| 2000 | 20000 | 68200 |
| 2500 | 25000 | 85250 |
| 3000 | 30000 | 102300 |
| 5000 | 50000 | 170500 |
| 10000 | 100000 | 341000 |
Selecting the right size heater
Heaters are available in a variety of styles, functions and type of heat source.
The first step in choosing the right heater is to determine the area to be heated. What zone is it located in North America and how is your building insulated? Using the FHA standard insulation and mid-North American zone average of 8.2 watts per square foot here are the basics to guide you. Consider that poor insulation will require more watts/BTU's.

Measure the size of the area to heat and mutiply length x width x 8.2. Find your total watts required for the room. Figures are based on standard 7' ceiling height, 15% total window and door openings on outside walls and 3/4 total air changes per house.
ENERGY TIP

Tiltable fans will force warm air from ceilings down to work areas - and slash fuel costs up to 20%.
Maintenance

Set your thermostat to 68 degrees. Setting it higher can increase energy costs 2-5%. Lower it at night.

Keep it clean

Clean and replace furnace filters, air filters, and heating vents to increase efficiency and reduce costs. Give your furnace an annual tune-up from a professional and make sure air flow is not blocked.

Insulate

Check windows and doors for proper insulation and install storm windows to maximize heat and minimize cold air entering the area.

Humidify

Using a humidifier will help areas feel more comfortable without turning up the thermostat, as will adding carpet to bare floors.

Hot water use

Set your hot water below 120 degrees in the winter, and make an effort to reduce hot water use. Pipes can be wrapped in low coat foam wrap to avoid the potential for freezing.

Reverse it

Reverse the direction of your ceiling fan during the winter months to keep the warm air circulating downward. Refer to the owner's manual, but generally, the fan should move in a clockwise direction to push heat down. However, exhaust fans in the kitchen and bathrooms pull hot air from the room so use them in short intervals during the winter.
| Fuel/energy sources | Pros | Cons |
| --- | --- | --- |
| Electric Heat | Flexibility of use; excellent for supplemental heating; safer - no fumes or leaks. | Won't heat large areas efficiently. |
| Gas Heat | Energy efficient; less expensive than electric and oil heat. | Higher purchase price; shorter life span (up to 20 years). |
| Oil Heat | Provides more heat per BTU; non –explosive. | More maintenance required (soot build up); less efficient than gas. |
| Hydronic/Radiant Heat | Uniform heating instantly; more efficient than conventional HVAC. | Cannot heat large rooms; works best on people in close proximity. |