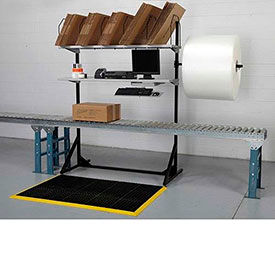 Dehnco Over Conveyor Packing Stands
Over Conveyor Packing Stands are used to Preprare Printed Manifests for UPS, FED-X, RPS and other Mailing.

Over Conveyor Packing Stand units store books, labels, supplies and a computer system to generate necessary paperwork easily. Upper shelf space provides convenient storage for both a forms printer and a small label printer. Slat wall panel stores workstation supplies. Shown with two keyboards and printers (sold separately), units are suspended from a sturdy arm which swings and pivots to position the keyboard in the most efficient position. The stand can store two separate manifest systems. The workstation can be positioned anywhere along the conveyer. The lower shelf extends out the back and is used to hold the CPU and printing supplies. In a conveyer application, the scale is typically situated in the conveyer line. Components can be added or deleted as required. Manifest Workstation components are adjustable up to 84-1/2" to accommodate workers. All sheet metal components are 14-16 gauge steel for lasting durability. Unit supports up to 800 lbs. Frame assemblies are 1-1/2" or 2" square tubular steel construction for easy assembly. Casters (sold separately) for portability. Available styles include Donble Manifest Stand, Packing Stand, and Storage Stand. Attachments on units vary per model. Width is 59". Depth is 24".