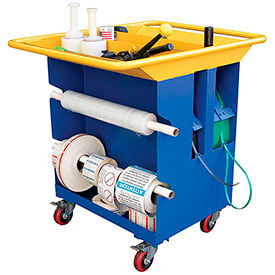 Multi-Purpose Packaging Cart
Multi-Purpose Packaging Cart Minimizes Packaging Time and Costs by Having Wrapping and Strapping Components Organized and Readily Available.

Designed to be the only cart you need for all your product wrapping and strapping requirements. Unique design allows for storage of hand-held stretch-wrap, both steel and poly strapping and strapping tools. Cart constructed with powder coated steel for durability. Cart color is Blue and top tray is Yellow.