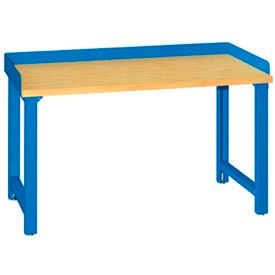 Fixed Height Workbenches with Backstops
Fixed Height Workbenches with Backstops Are Work Surfaces that Prevent Spillage for Assembly Lines, Manufacturing Plants, Warehouses, and Other Related Applications.

These workbenches feature a backstop to prevent tools, equipment, and other content from spilling behind unit. The steel construction provides strength and durability ensuring heavy duty content support. Some models feature a lower shelf or adjustable legs for convenient storage and height positioning. Ships fully assembled. Available top options are Maple Butcher Block Square Edge, Plastic Laminate Square Edge, and Steel Square Edge. Weight capacities are 2000 and 3000 lbs. Dimensions vary per model.