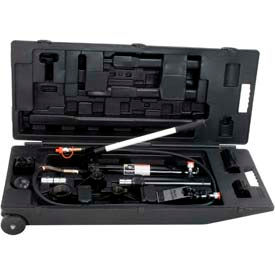 Hydraulic Body Repair Kit
Body Repair Kits Are Widely Used In Vehicle Maintenance For Body Collision Repair.

Body Repair Kits include various tools needed to push, spread and press vehicle body panels during automotive repair work. Tool attachments feature quick connections for quick assembly and ease of use. Pumps are rated from 8,000 to 10,000 PSI. Rugged blow-molded storage case provides portability in the shop or on the road. 4 Ton Body Repair Kit and 10 Ton Body Repair Kit available.