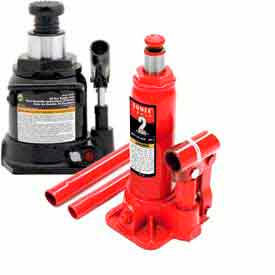 Hydraulic Bottle Jacks
Hydraulic Bottle Jacks Offer Powerful, Compact And Portable Maintenance Tools To Lift Vehicles For Roadside Inspection Or Service.

Hydraulic Bottle Jacks can be used in lifting, pushing ,spreading, bending, pressing, and straightening applications for long lasting use. Jacks feature a durable vertical shaft that supports the bearing pad to safely lift objects. Carrying handles allow for easy positioning. Air power models permit one-handed operation allowing user to watch load more closely. Extension screw provides added height when necessary. Safety valve prevents overloading. Air hose swivels in any direction. Available lift capacities range from 1-1/2 to 100 Tons. Max heights range from 1-1/4 to 52". Dimensions vary per model.