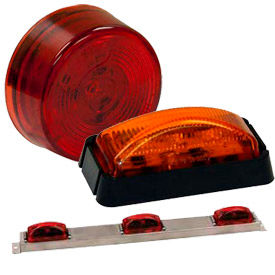 Vehicle Marker Lights
Vehicle Marker Lights Are Used For Emergency, Law Enforcement And Other Applications Requiring High Visibility.

Vehicle Marker Lights are made with LED lights for increased illumination, added safety and long lasting durability. Available in a variety of types, sizes and shapes to suit job applications, vehicle specifications and flash requirements. Units can be permanently mounted in secure fixed positions or magnetically mounted for temporary vehicular roof positioning. Styles are Rectangular, Square, Oval and Round. Colors are Amber, Yellow, Blue, Green, Red and White. Sizes and quantities vary per type.