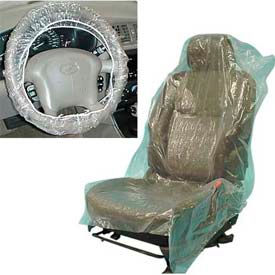 Vehicle Interior Protection
Vehicle Interior Protection Is Used For Auto Repair Stations, Body Shops, Gas Stations And Auto Retailers.

Interior Protection is made of polyethylene or paper for efficient coverage and long lasting durability. Prevents grease, grime and dirt from soiling seats, carpets, flooring, steering wheels and other vehicle areas. Leakproof and disposable. Available styles are Coated Paper Floor Mat, Economy Seat Cover, Mechanics Seat Cover, Parts Bags, Plastic Floor Mat, Premium Seat Cover, Steering Wheel Cover, SUV Tire Storage Bag and Tire Storage Bag Package quantities are 100, 200 and 500.