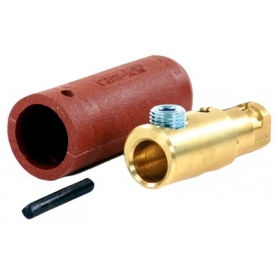 Cable Connectors & Terminals
Cable Connectors and Terminals Allow Splicing and Terminating Of Power Cables For Welding, Maintenance, and Repair Environments.
These cable connectors are designed to connect two or more conductor ends in a pigtail application and insulate the connection. The cam action design optimizes the interface between the connector halves for a virtually unbreakable connection. The connector covers are designed to resist heat, cold, abrasion, debris, and oil solvents to ensure a strong connection. The metal parts are precision machined with a specially shaped brass extrusion for lasting dependability.
Cam action design
Connector covers
Connection types are Double Oval-Point Screw, Female Terminal Connector, Male Half, Male/Female, Single Ball-Point, and more
Cable capacities are 1/0 - 2/0, 1/0 - 3/0, 1/0 - 4/0, and more