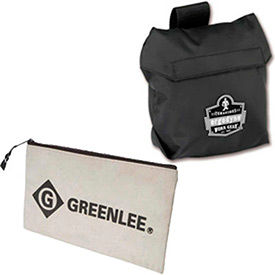 Tool & Parts Pouches
Tool And Parts Pouches Are Used For Applications Including Construction, Maintenance, DIY, And More.

Tool and parts pouches are made of canvas or polyester for long lasting durability and dependability. Pouches provide convenient storage, organization, and access for utility knives, screwdrivers, hammers, and more. Units are available in a variety of sizes, styles, and fabrics for application versatility. Available types are 12 Pocket Tool Roll/7-1/2"L, All-Purpose Canvas Zipper Bag - 7" x 12", All Purpose Canvas Zipper Bag - 9" x 15", Pouch, Respirator Bag, and Tool Pouch. Styles are Clamshell, Full Mask, General Purpose, Half Mask, and Tool Roll. Colors are Black, Gray, Red, and White. Dimensions vary per model.