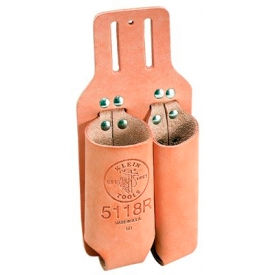 Tool Belts & Holsters
Tool Belts And Holsters Are Used For Applications Including Construction, Maintenance, DIY, And More.

Tool belts and holsters are made of leather or polyester for long lasting durability and dependability. Belts and holsters provide convenient storage and access for utility knives, screwdrivers, hammers, and more. Units accommodate various belt slot dimensions for user versatility. Includes rivet reinforcements and heavy-duty stitching for added strength. Available in a variety of sizes, compartment quantities, and styles. Available types are 14-Pocket Leather ElectricianÆs Tool Pouch/11"L, Adjustable Web Belt/2", Holster, Leather Hammer Holster, Leather Tool Holster, Pouch, and Tool Belt/Pouch Combo. Styles are General Purpose and Utility Knife. Pocket quantities are 1, 4, 7, and 12. Colors are Black, Black/Orange, Gray, and Red. Dimensions vary per model.