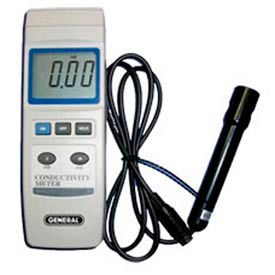 Water Quality Meters
Water Quality Meters Are Used For Water Treatment Plants, Industrial Pollution Control, Agriculture, And Lab Testing.

Water Quality Meters include models for testing conductivity, total dissolved solids (TDS) content, pH, oxidation reduction potential (ORP), conductivity, dissolved oxygen (DO) content, and salt content. Digital Conductivity Meters and Water Purity Testers are used for field checks. Choose digital model with probe, or pocket-sized model that's totally waterproof. Calibratable Pocket Meters are available in pH, EC, TDS or Conductivity models each one color coded for easy differentiation. Battery powered. Includes hard case. Data Logging Meters are available in several different models, each measuring a different set of water quality parameters. These meters have a probe and contain an SD memory card to record data.