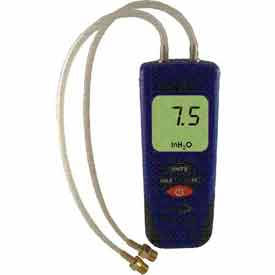 Supco® Dual Manometers
Supco® Data Loggers Are Used For Providing Concise Measurements In Critical Environmental Conditions And Applications.

Supco® Data Loggers are constructed as professional grade for accuracy and long lasting durability. Instantly records and displays up to 4 temperatures using 1 internal and 3 external sensors. Records temperature, humidity and dew point or temperature only. Self-contained device used for temperature and/or humidity sensitive applications including refrigeration, greenhouses, florists, wine storage, medical facilities and labs. Types are Temperature/Humidity Logger with Display, Temperature Logger, Logit Thermocouple, Logit Temperature Humidity, Logit Temperature, Logit Software with Interface, Logit Software and USB Interface, Logit Pressure Temperature, Logit Dual Temperature, Current and Voltage Logger and -4/-160°F Mini Temp Humidity Dewpoint Data Logger. Sizes vary per type.