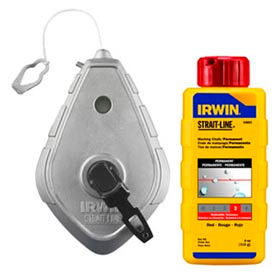 Chalk Reels, Chalk, & Lines
Chalk Reels, Chalk And Lines Are Used For Creating Line Markings For Construction Projects, Woodworking And More.

Chalk Reels, Chalk And Lines are available for a variety of marking applications. Chalk Reels are made of Aluminum or High Impact ABS Plastic housings and feature chalk lines, hooks, folding crank handles and sliding doors for easy filling. Chalk is available in Standard, Dust-Off, Permanent or Hi-Visibility types in Black, Yellow, Blue, Orange, Red or Green colors. Various Chalk Line Replacements come in 50 and 100 foot lengths. Items may be purchased separately or in various reel and chalk combinations. 150 foot Flagging Tape that marks survey stakes and boundary markers and M-D Laser Chalk Line Pro that eliminates the need for a chalk line or straightedge also available.