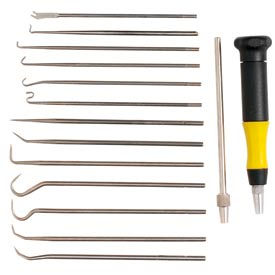 Probe, Hook & Pick Sets
Probe, Hook & Pick Sets Support Locksmiths, Craftsmen, Electricians, and Other Maintenance Applications.

These tools are made of heavy duty Stainless Steel tips with Aluminum or Stainless Steel handles for long lasting durability and dependability. General Tools, Moody Tools, King Tool and Stanley® brands offer a wide selection of Individual units or Sets of precision tools used for separating and positioning wires, marking small surfaces or manipulating springs and other small parts in hard-to-reach spaces. Tip types include various Straight, Hook, Single Bend, Double Bend, Triple Bend, Long, Short and more. Some sets come with various selections of complete units. Other sets have interchangeable tips with adjustable handle and extension.