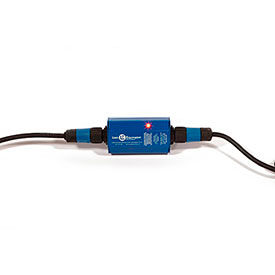 Portable Static Monitoring System / Reel
Portable Static Monitor Systems Ensure Static Bond Is Achieved Prior To Handling Flammable Materials.

Portable Static Monitoring Systems are made with precision electronics to check entire connection from clamp to ground point for safe fuel transfer, aircraft refueling, chemical mixing and more. Grounding clamp with stainless steel point provides maximum metal to metal contact. Stainless steel monitoring device includes a bright red LED to alert operator that connection is not secure enough to drain static electricity. High-quality 18/2 SOW cord with pre installed lugs for easy attachment to known ground point. Some models available with heavy-duty cord reel for convenient storage. Battery life is approximately 3-4 years based on average industry usage.