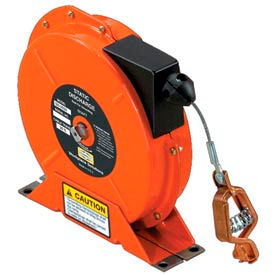 Static Discharge Reels
Static Discharge Reels Ensure Safe Grounding Of Vehicles, Containers And Other Equipment.

Static Discharge Reels are made with steel components for long lasting durability. Steel cable with alligator clip attaches directly to surface to ensure proper contact and efficient static dissipation. Cantilever frame supports reel assembly for maximum stability. Variety of styles available from Duro, Lind Equipment and Gleason Reel brands. Cable length varies by model.