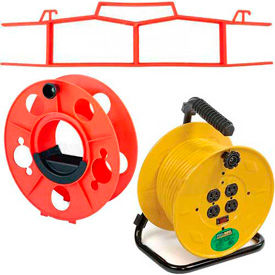 Cord Managers, Storage Reels, & Wraps
Cord Managers, Storage Reels, and Wraps Accommodate Hose and Cord Reel Storage.

Extension cord managers, storage reels, and wraps keep extension cords safely protected, organized and off the floor in any work environment or job site. Storage Reels with or without cord, Cord Locks, Straps, and Wraps. Storage Reels return extension cord back to reel quickly with certain models offering up to 4 Outlets & Built-in Circuit Breakers for protection. Cord Locks prevent plug ends from disconnect. Cord Wraps manually spool keeping shorter lengths organized. Cord Straps quickly & easily secure cords for carrying. Multiple Brands & Package Quantities to choose from.