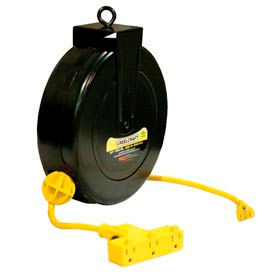 Reelcraft™ Light Duty Power Cord Reels
Reelcraft™ Light and Medium Duty Cord Reels Safely Store a Variety of Cord Lengths and Sizes.

Cord reels provide a reliable and safe means of storing cords for use in workshops, garages, studios and more. Reels include adjustable cable stops and circuit breakers that may be reset. Light Duty Reels accommodate moderate lengths of cord and cable. Steel housing with powder coat finish provides lasting durability and strength. Used for overhead mounting. Medium Duty Reels are used for use with longer lengths of heavier gauge cord and cable. Made from high-impact resistant composite materials for lightweight, lasting durability. Reels are UL® listed.